I fly to the Manila in a few days. I can't wait to see family and friends and people I've missed over the last three years. Three years!!! That's a lot of catching-up to do and I'm really looking forward to seeing everyone. It's been too long and God I hope I'm ready for Manila and all its changed glory.
I also cannot wait to have authentic Filipino food and to check out the country's gastronomic finds. I'm excited to try new dishes and restaurants my family and net foodies have been raving about and I'm also really looking forward to coming home to Manang Virgie, our family cook of many years, and her gorgeous homey meals. I'm so eager to fly and dine I could almost savor the sweet, sour, salty taste of exquisite food in the Philippines.
Obviously I've thought about this long and hard enough so I have a list of yummies that I MUST MUST have whilst I'm there.

1. Ube Macapuno Ice Cream
Translated, purple yam and coconut sport ice cream sounds more of a science project than a summer favourite, doesn't it? It doesn't matter, though, as this is possibly one of the best ice cream flavours in the world.

2. Green mangoes with bagoong
Oooh, I salivate just by the thought of super sour young/unripe green mangoes dipped in spicy-salty shrimp paste. My parents are mango fans and we used to always have a good supply at home although it's usually the ripe, juicy yellow ones. I like munching on sour green ones especially when they're freshly picked from a tree. For dipping, Manang Virgie makes a really yummy shrimp paste (better than the jarred ones from Cabalen & Barrio Fiesta!). Sometimes I also dip green mangoes in a soy sauce + vinegar + sugar dip. May sound weird, but it's amazing, I promise.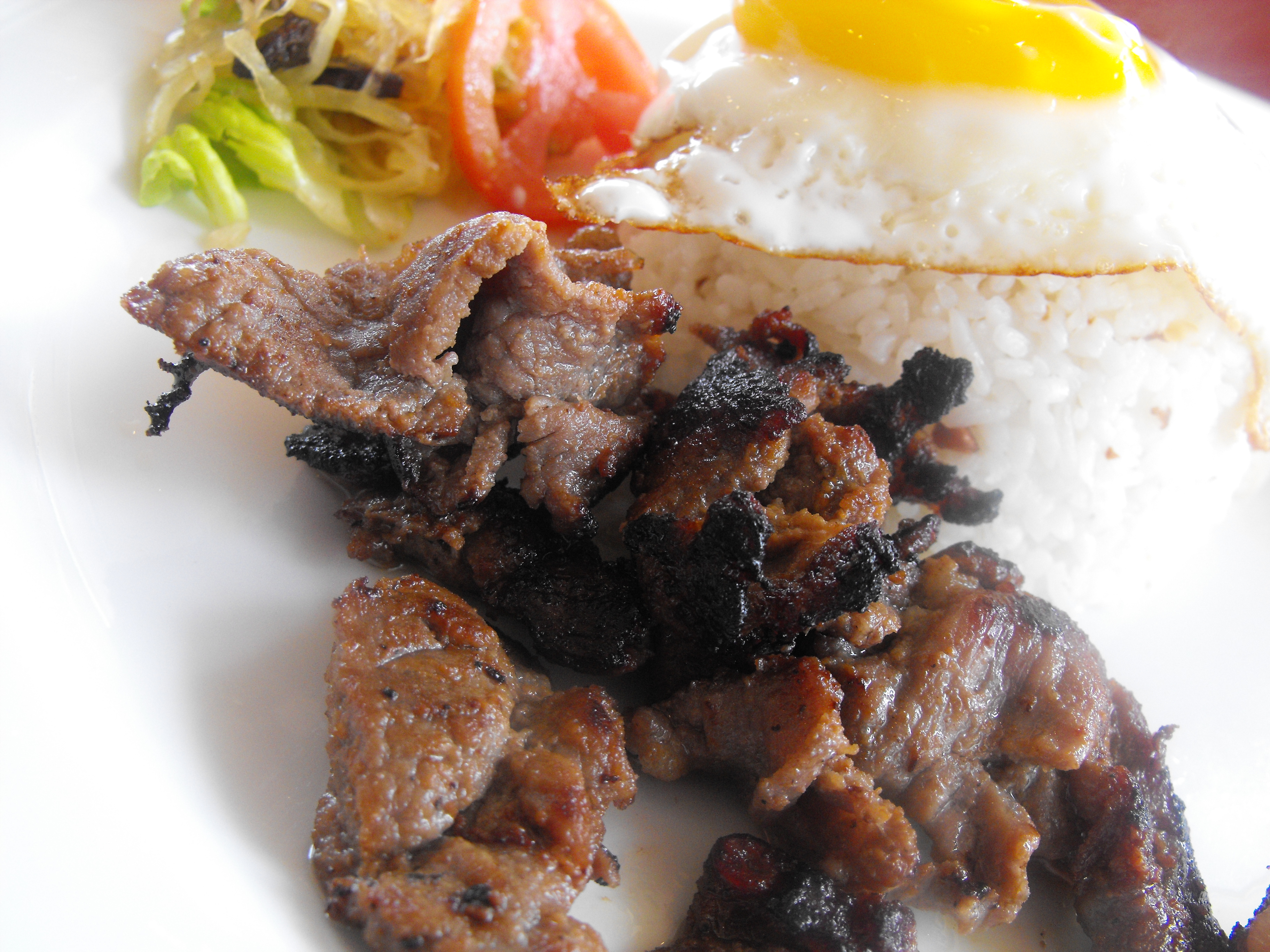 3. Beef tapa with garlic rice for breakfast
My friend
Ana
posted a mouthwatering photo of
her homemade tapa
yesterday. As you may have read,
beef tapa is my favourite breakfast meat
and I've tried so hard to find good alternatives for it as I've never seen them sell the meat in shops. Ana said she just improvised a cut of steak with some tapa mix she bought in Earl's Court. Good tip! I've forgotten that they actually sell Filipino sauce packets (the way everyone else has casserole mixes) in Asian shops. Saying that, when I'm in Manila I'll definitely make sure I get the real deal. Mmm. Tapa, garlic fried rice, no egg, tomatoes please.

4. Andok's Lechon Manok
Wow! Have you guys seen
the Andoks website
? I didn't know it was the '
Pambansang Litson Manok
' ('National Rotisserie Chicken') and I didn't realise they offered
more than chicken
now. I still remember Sundays as a child, my parents and I would get chicken for lunch at their flagship store in West Ave. We'd always ask for extra gravy too. Looks like business thrived over the years as it now has 300+ stores nationwide. Well done. Except I saw that they have chocopao (Chinese
baozi
filled with chocolate). That sounds so wrong.

5. Laing
When I was a child, this was the only vegetable dish I ate because our cook used to make it with shrimps and everything else seemed so gross. Manang Virgie's
laing
(
taro leaves
in coconut milk) reigns supreme: her recipe simply is the perfect balance of rich coconut milk and spicy chili that absolutely promotes the flavour and freshness of the taro leaves.

6. Chili Garlic Crabs

I've missed eating fresh seafood especially while on the beach. Manila boasts of the best seafood restaurants. I like places like Dampa (Parañaque/Libis) where you get to choose the freshest ingredients for your meal (like a market) and ask them however way you want them cooked. Fuss-free but really really good. I can not wait to enjoy fresh crabs cooked with butter, chili and garlic. Ahhh. Delightful.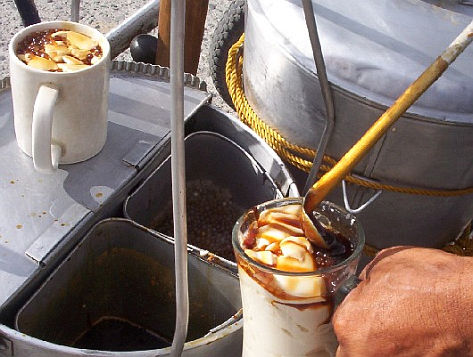 7. Taho

I've hated this as a child, but when I went to
UP
it was such a treat after classes. Vendors would sell this around the campus and for a good ten bucks, you've got a really healthy treat. I hope our favourite mamang taho in BA is still around.
8. My mom's lasagna/ Zeny's lasagna
I miss my mom's signature dish or rather, her only dish. My mom, bless her, can't cook. The only thing she's mastered is a very cheesy beef lasagna. We also have a caterer called Zeny who makes the best lasagna. If my mom tops hers with a centimeter of cheese, Zeny melts hers with an inch. It doesn't make you feel guilty at all because after a mouthful you forget about the calories and feel like you're in food heaven. Seriously.

9. Kare Kare
An all-time Filipino classic stew made with peanut sauce, oxtail, beef and vegetables. Best with shrimp paste and rice. Mmmm. I still don't know the best restaurant to go for this, but I'm definitely raring to find out!

10. Pancit Malabon
If you've been to Pinoy parties, chances are you've seen loads of this noodle dish. It's made with thick, round rice noodles and topped with... everything. I love it. Except I pick out the eggs. =)
That's all I can think of at the moment. All suggestions are welcome - if you have any restaurants you'd like me to try and review in Manila do let me know and I'll try to visit them and share my experience. =)